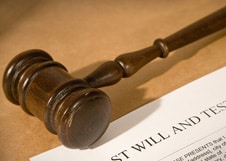 Alberta used to have a whole host of legislation that dealt with wills and related matters. Since February 1, 2012, the new Wills and Succession Act has been in effect, and I thought I would quickly touch on a few important highlights that are worth noting and/or might surprise people….
For years and years, the law was that a new marriage would automatically revoke an old will, while a divorce had no effect. For obvious reasons, this was dangerous for those who had divorced their spouse, but had not remarried – if you forgot to update your will, your "ex" could find up being the beneficiary of your estate…. Well, the new legislation changes all this, so be aware!
A new marriage (or formal entry into an Adult Interdependent Partner agreement) will no longer revoke an existing will. A divorce AFTER February 1, 2012 will revoke gifts to a former spouse in the will, as well as revoking his/her appointment as an executor or a guardian of minor children, unless the will specifically states otherwise.
Now a different group of people must be careful – those who have split from their former spouse or common-law partner, but have not completed a formal divorce. People who formally divorce and marry should be safe now, but people who tend to "live together" without formally entering into or severing relationships will need to be careful to make sure their will is current.
Another point to note is with respect to someone who dies intestate (without leaving a will). If you die leaving behind a spouse and children of the relationship, your estate will automatically go to your spouse in its entirety (instead of the old formula where the spouse got an amount off the top and the rest was shared out). If you are estranged from your spouse, but have not formally divorced, the outcome will definitely not be what you want. If you die leaving behind a spouse and children from another relationship(s), the spouse will get the greater of $150,000 or 50% of the estate.
These are just some quick highlights of a major change in wills and estates practice. Think about your wishes and the current state of your relationships, and how the two fit together. Remember, a will is a relatively inexpensive way to ensure (insofar as it is possible) that your wishes are respected and to minimize fighting, trouble, expense and resentment for your beneficiaries.